See what laser lipo treatments or sessions can do!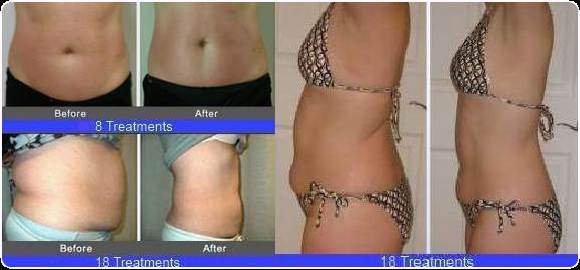 Disclaimer: A small percentage of users might experience dramatic weight loss in a short period of time, but weight loss can't be guaranteed for all.
You can lose centimetres of unwanted fat off a target area
You can target your stomach or thighs
Normally R500 per Laser Lipo treatment.
Pain-free
Non-Invasive
No recovery time
Only 30 minutes per treatment
No unsightly scarring

CALL Head office NOW on:
(083)415-9196
OR
(021)853-0712
If you want to start your own business with one of these machines, we have machines available

(You can buy or hire these machines from us)

We have the best deals avaialable in South Africa.

We found a diet you can follow to lose some extra kgs while on our treatments

The extra calories the machine frees up can be exercised away, so here is a program to follow

Here is a supplement program we recommend to help you lose even more unwanted fat.
Results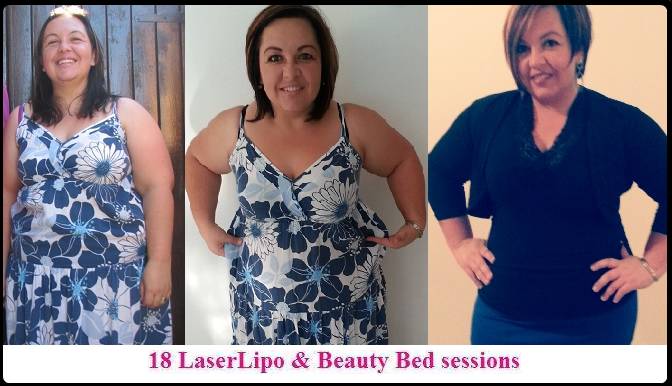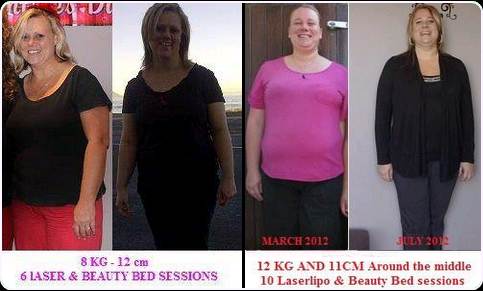 Treatment Areas: Stomach, Face, Hips, Thighs, Back fat, Chicken wings, Double chin, Baby bulge, Male breasts, CELLULITE

Imagine the results of liposuction without the surgery...

Immediate results, Fantastic inch loss, Reduce fat and tighten skin, Reduces cellulite, Safe, Non-invasive, No down time, No pain, No starvation diets

The above results were obtained with:
Laser Lipo Sessions
Beauty Bed Sessions
Guidance from a dietitian
About the Diode lipo laser machines
The Diode lipo laser machines are cold red laser machines. This type of machines have been used for over a decade by physiotherapists on sport injuries and to assist the body to heal itself. So the technology is thoroughly tested and is safe with no negative side-effects.
The Diode lipo laser machines were specifically created to break down unwanted fat cells and is not classified as medical machines by the Government.
Diode lipo laser machines are 100% Non-invasive, laser-based, spot fat reduction and body contouring systems.
Rather than a painful incision, the Diode lipo laser machines use laser energy to safely (and painlessly) penetrate the skin and target specific adipose (or fat) cells. It is through this targeted process that the Diode lipo laser machines are able to in fact stimulate the cell itself into releasing water, free fatty acids, and glycerol. Having released these three compounds, water, free fatty acids, and glycerol (often referred to as Triglycerides), the fat cells "shrink" significantly, resulting in inch loss for patients!
Applications
Inch loss
Skin tightening
Cellulite reduction
Skin rejuvenation
Laser Lipo South Africa Home Page
Laser Lipo SA - Online Video

If movie is not available try downloading the latest version of flash

Beauty Bed
It can burn 600 calories in just one 30 minute session.

It helps for:

• Burn Calories & Weight Control
• Improved Muscle Tone and Strength
• Body Shaping
• Increased Energy levels
• Immune System Enhancement
• Rejuvenation
• Stress and Fatigue Reduction
• Clears Cellulite
• Control Diabetes

How does it work?

Our bodies radiate infrared energy through the skin at 3 to 50 microns, with most output at 9.4 microns. The Beauty Bed emits between 4-14 microns which matches so closely to the human body's radiant energy that our bodies take in close to 93% of the infrared waves that reach our skin. Therefore, rays have the ability to penetrate deeply (up to 3 inches) and permeate throughout the body.





Testimonials
Name

Info

Audrey Bell

I was only visiting Cape Town for 5 weeks… my dream was to loose 6kgs and I'd been exercising myself ragged every day, but with little success - but cm's were much more important me at the end of the day. Yolanda (laserlipo, Strand) was not yet part of the equation as she only opened towards the end of March.

I spent thousands at a "Clinic" in Claremont the interim, where I endured some very painful treatments (carboxy and velashape - do not do them on the same day - I had bad bruising for a week!!); and was encouraged to inject myself every morning with a "protein" to assist my body in burning fat, this was to be used in conjunction with a very low calorie diet. I tried my best and lost 3 kg's in the first few days, but soon realised that this was not the answer as I could not funtion and exercise on only 650 cals a day: this was only a quick fix. I continued with the injections however, but stuck to my usual daily intake of 1200 calories… but after 2 weeks I was really not happy with the results of the seriously expensive treatments… they were just not immediate enough for me.

Enter Yolanda… and what a fantastic person she is! She took measurements, etc before hooking me up to the machine - the treatment was totally painless and so blissful I could have fallen asleep! I wanted her to concentrate on my saddlebags, inner thigh and back of the leg area - as this was driving me nuts and I could not shift this with exercise alone. After the treatment, the key is to get the "melted fat" moving and out of your body - so she has a stepper and a trampoline for you to use for 10 or 20 minutes after the treatment. I was totally amazed at the results… And in all the right places!!!

I can highly recommend this very cost effective, painfree treatment to anyone who needs spot fat reduction. You WILL lose cm's… guaranteed!! It's just awesome and I wish Yolanda the very best of luck!!

Adri
Hi Yolanda



Started with you guys on 81kg and a BMI of 29 that puts me on 3kg's away from the BMI's 'obese' indicator.

Today I am on 74.3kg's and a BMI of 26.5 that puts me just 5kg away from the 'normal' BMI indicator.

To be able to see the difference for myself and for people to notice it, without me telling them I've been on any type of 'diet' or 'exercise' programme was my 1st goal. As you can see from my pictures, that goal has been reached.

My second goal is to get to 69kg and into the 'normal' BMI indicator.

My final goal is to get to 60-64kg's and I feel that 62kg's is my target weight. Then I will be on a 22.2 BMI indicator.

I'm so happy that I came to know about your LaserLipo programme. It helped me target the fat around my buttocks and legs like nothing else has been able to do before. The loss of centimetres was incredible. And it seems to have kicked started further weight loss very nicely.

I will keep you updated on my progress. You are welcome to use my pictures. I will send you more as I go along.

Big hug and warm regards
Adri



Arlene Brink

What was your first impression of the machine?

Easy to use


Are you happy with the results?

Very Happy


What areas did you target?

Stomach


How do you find the services, treatments and response from LaserLipoSA?

Excellent

Celeste Steyn

What was your first impression of the machine?

I want a machine of my own


Are you happy with the results?

100%


What areas did you target?

Stomach


How do you find the services, treatments and response from LaserLipoSA?

Excellent

Legal Disclaimer: We LaserLipoSA will not be held legally liable to any claims or customer comments made on this website.