Laser Lipo South Africa
Find clinics in your area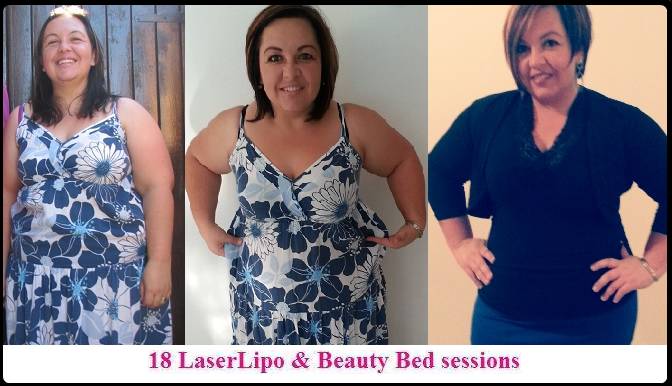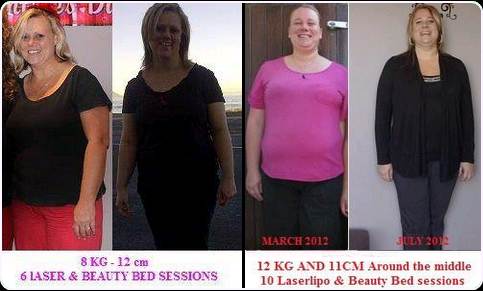 If you want to start your own business with one of these Diode lipo laser machines, we have machines available.

(You can buy or hire these Diode lipo laser machines and others from us)

We have the best deals avaialable in South Africa.


We found a diet you can follow to lose some extra kgs while on our treatments

The extra calories the machine frees up can be exercised away, so here is a program to follow

Here is a supplement program we recommend to help you lose even more unwanted fat.
About the Diode lipo laser machine and treatments
The Diode lipo laser machines are low level laser systems. This type of machines have been used for over a decade by physiotherapists on sport injuries and to assist the body to heal itself. So the technology is thoroughly tested and is safe with no negative side-effects.
This laser lipo procedure is designed to reduce levels of unwanted fat without surgery.
The laser penetrates through the skin to the 3rde layer (the Hypodermis).
The Laser then distorts the cellular membranes then Glycerol, water and free fatty acids emerge from the cells.
The fat cells reduce in size and the lymphatic system then removes the fatty liquids through the venous system.
The body needs to get the released liquids out through heat or energy in 24 hours (otherwise it will just go back in to the fat cells again).
With one treatment the Diode lipo laser machine takes about 425 calories out of your fat cells
Not only is the laser lipo procedure safe but quick, pain-free and healthy.
You can do any part of your body, buttocks, arms, upper and lower back, inner and outer thighs etc.
We don't do women's breasts.
If clients eat sensibly and regularly, combined with exercise, the body shape will retain the effects of the laser lipo treatment.
Straight after the laser lipo treatment it is compulsory that every person does 10 to 20 minutes of exercise.
You can do exercise on our power plate machine or on the treadmill we have at the clinic.
If you can't or don't want to exercise you can go for a beauty bed treatment.
After the treatment you need to drink lots of water and be careful of the portions you eat.
One treatment is 30 minutes.
You can do 1 laser lipo treatment a week.
For the best results a course of 8 treatments is normally required.
One single laser lipo treatment is normally R500.
And a beauty bed treatment is normally R200.
But we usually have specials running at the branches and both these treatments could cost you as little as R350.
This is 50% less than what they usually cost.
Under these conditions you can't do laser lipo treatments,
must be stabilized between 6-12 months otherwise
Pregnant, Epilepsy, Children 16 years and under, Thyroid Gland Dysfunction
Hypertension, Pacemakers, Cancer, Radiation Therapy, Kidney / Liver Disorder
Laser Lipo SA - Online Videos
Fat Freeze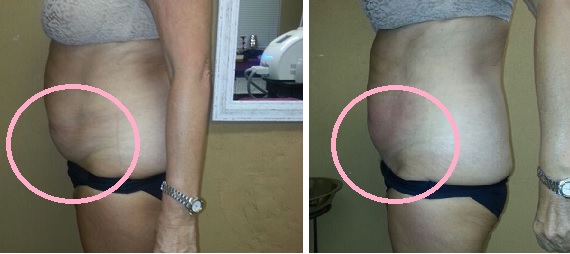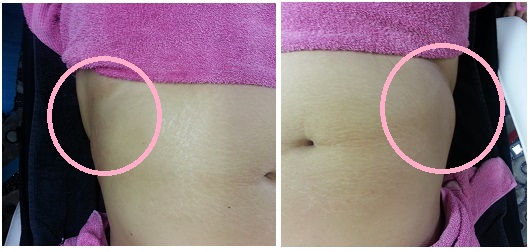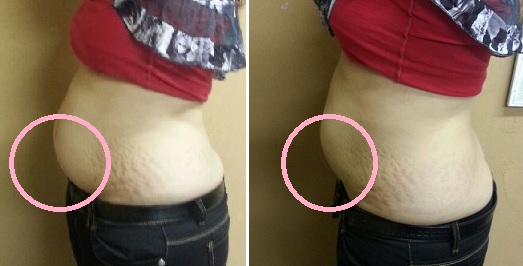 Beauty Bed
It can burn 600 calories in just one 30 minute session.

It helps for:

Burn Calories & Weight Control
Improved Muscle Tone and Strength
Body Shaping
Increased Energy levels
Immune System Enhancement
Rejuvenation
Stress and Fatigue Reduction
Clears Cellulite
Control Diabetes

How does it work?

Our bodies radiate infrared energy through the skin at 3 to 50 microns, with most output at 9.4 microns. The Beauty Bed emits between 4-14 microns which matches so closely to the human body's radiant energy that our bodies take in close to 93% of the infrared waves that reach our skin. Therefore, rays have the ability to penetrate deeply (up to 3 inches) and permeate throughout the body.





Contact Us
Laser lipo clinics and salons within South Africa
There are LaserLipo, Beauty Bed, Hair removal, skin rejuvenation, wrinkle removal, skin tightening, pigment therapy, vascular therapy, breast lift up assistant, tattoo removal treatments available. Please contact the salon directly for an appointment or contact us through the website.




Laser Lipo Clinics and Salons in Other Locations
Area
Place Name
Machines
Contact Name
Telephone No
Physical Address
Johannesburg - Alberton
Laser-On-Braun
LaserLipo, Beauty Bed, IPL
Elizra Vorster
072-106-5205
24 Braun Street, Verwoerdpark
Johannesburg - Edenvale
IPL
Lynette Hewitt
082-786-6471
113 Voortrekker ave
Johannesburg - Craigavon - Sandton
IPL
Elrinda Morelli
081-286-7433 OR 082-300-5099
65 Villa Dante, Campbell Ave, Craigavon
Free State - Vrystaat - Harrismith
Xclusive 2 U
Multi-Functional
Joanita Paiva
073-360-7172
8 Geelhout Laan
Limpopo - Louis Trihardt
Satin glow health and beauty
Diode Laser Hair Removal
Hester Bekker
074-362-8000
129 Krogh Street
Mpumalanga - Standerton
IPL - Michelle Kukkuk
IPL
Michelle Kukkuk
072-288-6806
78 Vry Straat
KZN - Durban - Berea
Beauty Magic Salon
LaserLipo, Beauty Bed, Multi-Functional
Naseera
071-845-0614 OR 076-216-4648
165 Brickfield Road
Limpopo - Polokwane
The Powder Room Salon
Cryo, Beauty Bed
Karien Oosthuisen
071-679-2834
29 Carel Street, Polokwane
Western Cape - Milnerton
Bella X
LaserLipo, Beauty Bed
Xeniah Asia
071-491-5827
Unit C4, Centurion Business Park,Democracy
Western Cape - Vredenburg
Bodytox
Cavitation, Beauty Bed
Louisa Dirkef
071-125-6696 OR 082-302-2584
Kerk Street, Vredenburg
Western Cape - Ashton - Robertson
Wacky Body Slimming
Multi-Frequency, Cavitation, Beauty Bed
Esme De Wet
083-234-2954
Ashton Kelder, Main Rd,
Western Cape - Cape Town - Paarl
Slimming with Me
Cryo, LaserLipo, Beauty Bed
Marie-Antoinette Burger
073-219-0611
423 Main Road, Paarl
Western Cape - Cape Town - Springbok
Smooth Intentions Laser Lipo
Cavitation - RF - Diode, Beauty Bed
Sonia Hendrikse
072-385-8083
22 Berg Street
Western Cape - Cape Town - Belville
Laserlipo - Cavitation - RF - Diode, Beauty Bed
Sonia Van Lelyveld
076-421-7213
6 Uitsig street, Bellville
So now you can see that there are Laser Lipo SA affiliated clinics and salons all over South Africa. In all major city areas like Johannesburg, Pretoria, Centurion, Durban and Cape Town.
So if you looking for a laser lipo clinic in Johannesburg or a laser lipo clinic in Pretoria or a laser lipo clinic in Centurion or a laser lipo clinic in Durban or a laser lipo clinic in Cape Town, you can find a laser lipo south africa affiliated clinic right here.
Just click on the Clinics link on the top of this page to get an up to date list of laser lipo clinics in South Africa. All our laser lipo clinics are contactable throughout the work week during normal office hours.

If you would like to contact our laser lipo clinics just write down the number and phone the laser lipo clinic up and setup a laser lipo appointment. All laser lipo appointments are strictly confidential and are handled with the utmost of care.

Laser Lipo Treatments are the fastest way to lose unwanted fat. Our Diode lipo laser machines are the best in the market.

Yes that is right, you can get a treatment in Cape Town too. So if you want a treatment and you in the Cape Town area you can just contact us though this page in the contact us section.

Laser Lipo SA - short description

Laser Lipo SA has branches in Strand and Plattekloof in the Western Cape and we specialize in:

Laser Lipo & Beauty Bed treatments - fastest way to lose unwanted fat
Fat Freezing - Cryolipolysis
Permanent hair removal
Skin rejuvenation
Wrinkle removal
Skin tightening
Pigment removal
Vascular therapy
Breast lift up assistant
Tattoo Removal treatments

Long description

Laser Lipo with the Diode lipo laser machines:
Reduces levels of unwanted fat without surgery
Penetrates into the 3rd layer of the skin.
Quick, safe, pain-free and healthy - 30 minutes a session and once a week
Use it on any part of the body, except the breasts.
Removes about 425 calories out in one treatment.
Best results after 8 sessions.

Beauty Bed

Burn up to 600 calories in 30 minutes
Metabolism speeds up
Blood circulation
Weight Control and body shaping
Muscle tone and strength
Increased Energy Levels
Immune System enhancement
Rejuvenation
Stress and Fatigue Reduction
Clears Cellulite
Control Diabetes.

Cryolipolysis - Fat Freezing Machine

Body slimming and cellulite reduction
10-37% Permanent Fat Loss in 1 Session
Non-surgical Alternative to Liposuction
Excellent for Stubborn Pockets of Fat
No Discomfort
Reshape Body Contours
No Down-time
Safe, Gentle Elimination of Fat over 2-3 Months

Multi-Functional Machine

Hair removal
Skin rejuvenation
Wrinkle removal
Pigment therapy
Vascular therapy
Breast lift up
Tattoo removal
Flat birthmark removal

Keywords (vir die search engine)

Laser lipo, Beauty, Fat Freezing, Hair removal, skin, therapy, breast, tattoo, tattoo removal, treatments, fat lose, laser, cellulite, pigment, vascular, wrinkle, skin rejuvenation, beauty salon, beauty clinic, clinic, salon, Western Cape, Cape Town, Strand, diabetes, stress, fatigue, body slimming, body, slimming, calories, energy, health, skincare, health care, Health & Beauty, exercise, fitness, spas &wellness, services, luxury brands, pigmentation, age spots, birth marks



Legal Disclaimer: We LaserLipoSA will not be held legally liable to any claims or customer comments made on this website.





Find out more about Fat freezing or Cryolipolysis on this site.